Uganda
In the last 3 years over 1,300 businesses have been set up in Uganda.
Following are some examples:-
Awori's cafe
Awori is a single mother of two, who opened up a small eating place in Mbura town, offering a wide range of local foods and a new special meal locally known as "Ki-commando", this type of meal is eaten by the hard working men, and is a mixture of
chapatti and beans.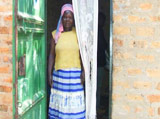 The profits from the loan have helped her lift her family status in this small town, her children are now in school, provided for and happy in their studies. Her business expands daily with many new customers, Through micro enterprise she is now able to employ two people to work for her. She is now a very happy woman.
Pigs and Sewing
Biwoye started with a farming business when she bought 2 piglets in her 1st cycle loan, when she sold them she was able to support her child and home, plus she was able to buy other pigs to keep the business going.
In the second cycle she started another business to supplement the pig business, buying a sewing machine, now she sells clothing materials and mends people's clothes as part of her business expansion. This has changed her life in so many ways, through micro enterprise she is now able to pay schooling fees for her only child, being a single mother.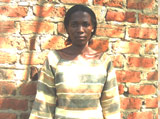 One of the first businesses to be set up was a young lady called Sarah who started out selling charcoal, but as this became successful a number of other people began selling charcoal around her, which was restricting her business. At this point she came up with the idea of becoming a wholesaler and applied for a further loan to start buying in bulk and providing stock to the other charcoal sellers. This business is now running successfully.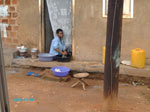 At a cost of £700, loans were made to set up 26 businesses at an average cost of £27 each in a very poor village called Gerenge Landing on the shores of Lake Victoria. These businesses included selling bananas, brick baking, maize roasting, selling charcoal, baking bread and nets for fishing etc.
In one example a loan was made for the purchase of fishing net at £32 and during our visit we heard that this man had repaid the loan. However in conversation with him we discovered that he was paying £1.50 per day to hire a small canoe to fish from and that the cost for him to purchase a medium size canoe was only £180 (4 months hire!). We are now arranging a loan for him to buy a canoe, which he can obviously repay at a rate of £1.50 per day and if on any days he does not wish to go fishing he can hire out his canoe for £1.50.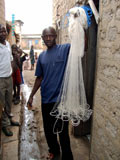 In the village of Kamuli
We met a lady who's husband ran a bicycle repair business, but was very often unable to obtain the necessary spare parts he required. His wife applied for a loan to set up a business to provide these spare parts and for a loan of around £20 (!) this was done and she now sell spare parts to her husband and to people who wish to repair their own bicycles.
A few hundred yards down the road from this was another family who also for a loan of around £20 had set up a business whereby they purchased coffee beans from the grower and then by spreading them on the ground in front of their hut and keeping turning them, dried them out in the sun and were able to then sell them at a profit.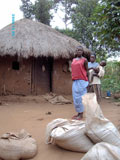 We also met a 15-year-old boy who had lost both his parents and had been left with the responsibility of bringing up 4 siblings. In order to do this he had set up a business making bricks, which entails him standing up to his knees in a muddy clay pool and digging out clay blocks which are then piled in the sun to dry before a fire is lit in the middle of them to bake them and make them hard wearing. The need for a loan here is to buy the wood to make the fire in the middle of the bricks. As a result of the success of this business he is able to feed and look after his 4 siblings as well as working to finish his own schooling.
Some of the areas we visited were very poor and as mentioned above Gerenge Landing is one of these. In an outskirt of Kampala, called Bweyogerere, a lady had set up a "restaurant" under the scheme. It had walls made of cardboard and very limited furniture, but was a success as each meal was cooked freshly as customers came in. In fact if a poor person came in and did not have the necessary money for a meal then this lady would cook an appropriate meal for the amount of money they had available! How's that for being market- led!