India
In Pallavaram, India there is a joinery school for young men to teach them how to work with wood, in order to make a living from this. It came to our attention however that there were approximately 30 boys completing this course each year, but at that stage were unable to earn a living as they did not have tool kits!
At a cost of £800 we were able to purchase tool kits for 53 boys at an average loan cost of £15 which enabled the 30 boys leaving at that time to start out with their own tool kits, but also enabled a further 23 boys to complete the course using their own tool kits.
Agra-India
Ladies Shoemaker
Mr. Rakesh says
"For the last 18 years I was working at different shoe factories away from my home and family. My family had to face hardship to look after my four children, mother and the household works as my salary was meager. I'm so grateful for the Micro Enterprise Development, which gave me a new opening to manufacture ladies footwear at home and sell directly to the customers. Now the business is picking up and I believe for more openings. Moreover I am happy to be with my family and take care of all the household responsibilities. I am thankful for the sponsors helping this project"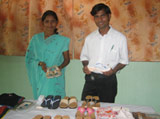 Mrs. Jailus says
"I am a housewife and my husband is a daily wage worker with building contractors. We have five children to take care of. We suffered a lot due to lack of finance. I had experience in tailoring. The Micro Enterprise Development helped me to purchase a sewing machine. Now I have started earning some extra money by stitching garments for women at home. I thank God for the MED venture and we are now able to look after our five children in a better way than before and also our living condition has improved. I am so grateful for the sponsors."