Bogota Columbia
Recycling
Aidee Rocio is the head of her family and through micro enterprise loans she has expanded her recycling business. Senora Rocio has 8 years experience in this area, but received a meager income due to lack of resources. She has now been able to develop the work through the purchase of a horse and hiring a cart and has increased the areas in which she is able to work.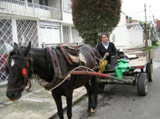 Aidee has six children who she is now able to feed, clothe and send to school.
Empanadas
Through a micro enterprise loan Rosalia has been able to start a business of making and selling empanadas (small Colombian patties, made from Maize flour filled with either chicken, beef, ham & cheese of other fillings.) from a stall in a village outside of Bogota and also selling door to door or by order. On average she is able to sell 65 empanadas on a daily basis, this provides more than enough profit to pay her daily household costs and meet the needs of her three children.