About Us
Change4Change is committed to bringing about change and improvement in the lives of people in developing countries through business opportunities.
The charity has a Board of Trustees, all of whom are Christians and members of churches within Nottinghamshire, England.
All of the Change4Change Trustees work for the charity without charge as they are committed to ensuring that 100% of monies given is directed to the projects.
Projects, which receive funding are not selected on religious or ethnic grounds but upon sound business proposals and the Change4Change guidelines, as our aim is to give people the opportunity to create a sustainable income and help to release them from poverty.
How It All Started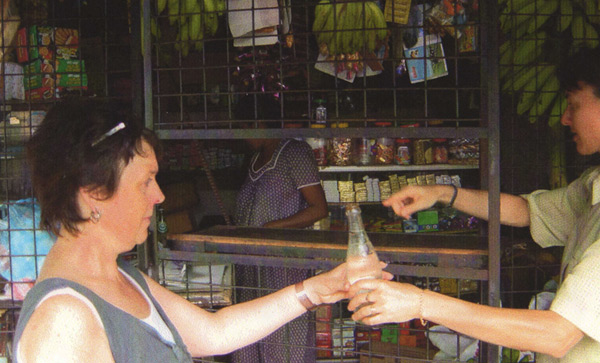 This picture shows a stall in Sri Lanka , that Martin Jeffs visited many years ago. As he spoke to the shop keeper he asked how much it had cost to set the business up.
Martin was amazed to find that it was less than a family of four would spend at Starbucks. This concept stuck with him as he looked for a way to impact the developing world. He realised it was not all about raising large amounts, the money needed to be used wisely in areas that could be sustained. From a conversation with a shop keeper, Change4Change through the kind donations of many people and companies have now taken over thousands of families out of poverty.
Biographies
Martin Jeffs
As an accountant in my mid 50's who is married with three grown up children and have been in accountancy since school. I decided I ought to use my abilities and contacts to make a difference to people much less fortunate than the majority who will be reading this. After visits to Sri Lanka and Uganda I soon realised that a small amount of money could make a massive difference to people in the developing world and decided to found Change4Change. In subsequent years I have visited projects in Uganda, Ghana and India on a number of occasions and am always amazed and encouraged by how little can make significant changes to the lives of families in the developing world.
Mike Carby
I am a businessman and Chartered Accountant, married with two grown up children and a grandchild, who took the opportunity to retire early after a life-saving liver transplant. With this second chance enabling me to appreciate living, I want to give something back to others. My involvement with Change4Change and also being the Finance Officer for a very active and expanding local Church give me this opportunity.
Julian Stone
Currently I am a Managing Director at Inception Associates Ltd, with a real passion for business, Change4Change allows me to combine my commercial experience with a real desire to see change both in the developing world and closer to home. With 4 children of my own I am very pleased to be part of something that sees families bought out of poverty in a sustained and controlled manner.